Hallo allemaal,
Voor vandaag heb ik een eenvoudig kerstkaartje. Voor de basis heb ik de Card Art Slimline Window gebruikt.
Ik ben begonnen door eerst de basis over te nemen uit wit cardstock en daarna uit design papier uit de Crafty Kit Tis the Season. De ramen heb ik overgenomen uit zwart cardstock en hierop gemat met designpapier uit de crafty kit. Nadat ik alles opgeplakt had, miste ik iets. Om het zwart weer terug te laten komen, heb ik vervolgens de kaart op zwart cardstock geplakt.
Card Art Slimline Window
470.784.085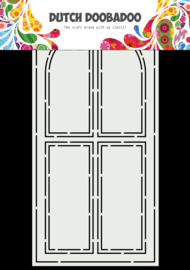 Het designpapier komt uit de Crafty Kit Tis the Season. Helaas is deze op bij Dutch Doobadoo en wordt ook niet meer bijgemaakt. Maar wellicht heeft uw hobbywinkel deze nog wel op voorraad. Wees er snel bij als u deze wilt hebben, want op = op. Bovenaan de kaart heb ik een slinger met lichtjes geplakt.

Crafty Kit Tis the Season
473.005.032

Hoe leuk zijn toch deze pinquins? Ook deze zitten op het uitdrukvel dat in de crafty Kit zit.
De kaart heb ik verder opgepimpt met de kerstbomen en cadeautje van Marianne Design. Voor de sneeuw heb ik foamball clay gebruikt. Ik hoop dat ik je een beetje heb kunnen inspireren. Bedankt voor je bezoek aan ons blog. Dan wens ik je nog een fijne dag en tot de volgende keer!

Liefs