Voor vandaag heb ik een kaartje gemaakt met de nieuwe Crafty Kit - Be Wild.

Wat is het toch een superleuke Crafty Kit. In deze kit zit een shape art, designpapier en embellishments die je uit kunt drukken. De basis van de Shape Art heb ik overgenomen uit donkergrijs cardstock. een maatje kleiner uit lichtblauw cardstock en nog een maatje kleiner uit licht geel cardstock en tot slot nog een maatje kleiner uit designpapier. In het midden heb ik de tent van ECD geplakt. Deze heb ik gestanst uit het designpapier van deze Crafty Kit. Langs de voorkant van de tent heb ik nog een smal grasrandje van Magnolia geplakt.
Crafty Kit - Be Wild
473.005.010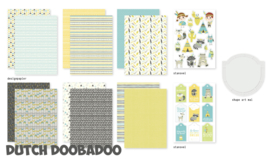 Achter de tent heb ik de boom van ECD geplakt. En hoe leuk passen de plaatjes uit het uitdrukvel hierbij!
Bij kamperen hoort natuurlijk een kampvuur en wat is lekkerder dan te bbq-en met een worst op een tak. De tent heb ik met 3D foam opgeplakt. Omdat deze dan hoger komt te liggen kun je er bijvoorbeeld een tag achter schuiven. Ook de tag zit in deze toffe Crafty Kit, net als het leuke poppetje. Zoals je ziet, gaat hij op jacht voor nog meer vlees voor de bbq. Nog een zonnetje erbij voor het mooie weer en kamperen maar! Ik hoop dat ik je een beetje heb kunnen inspireren. Bedankt voor je bezoek aan ons blog. Dan wens ik je nog een hele fijne dag en tot de volgende keer!